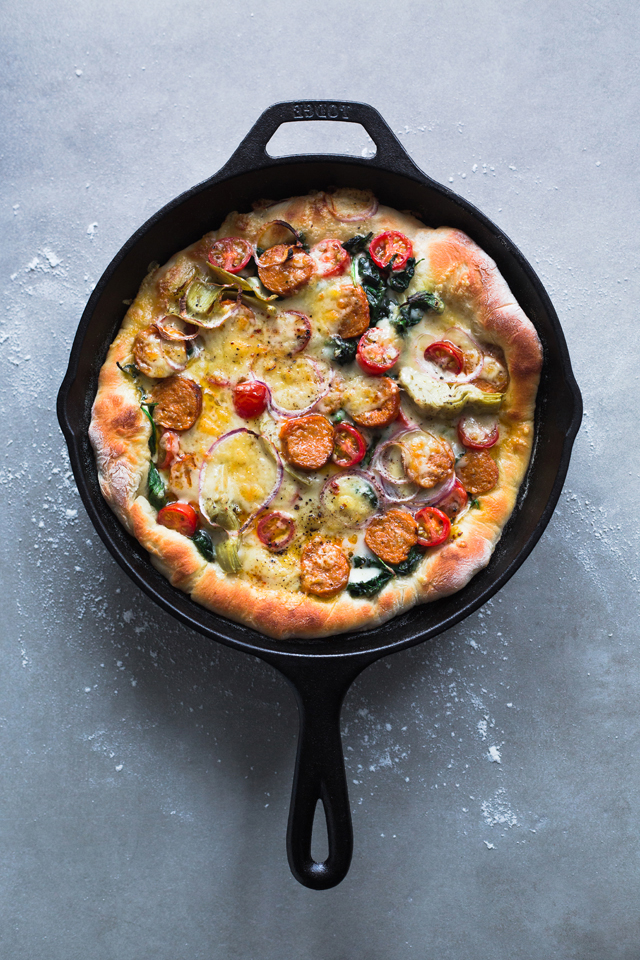 Please have a look to the Atlantic article about skillet pizza to read more about the process. Find my recipe in English below! Enjoy!! :-)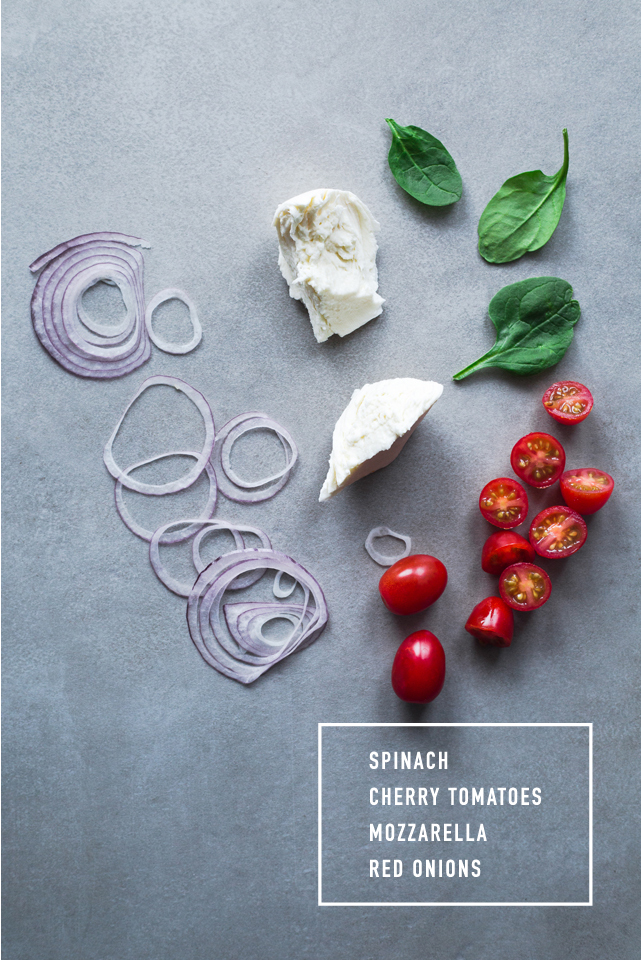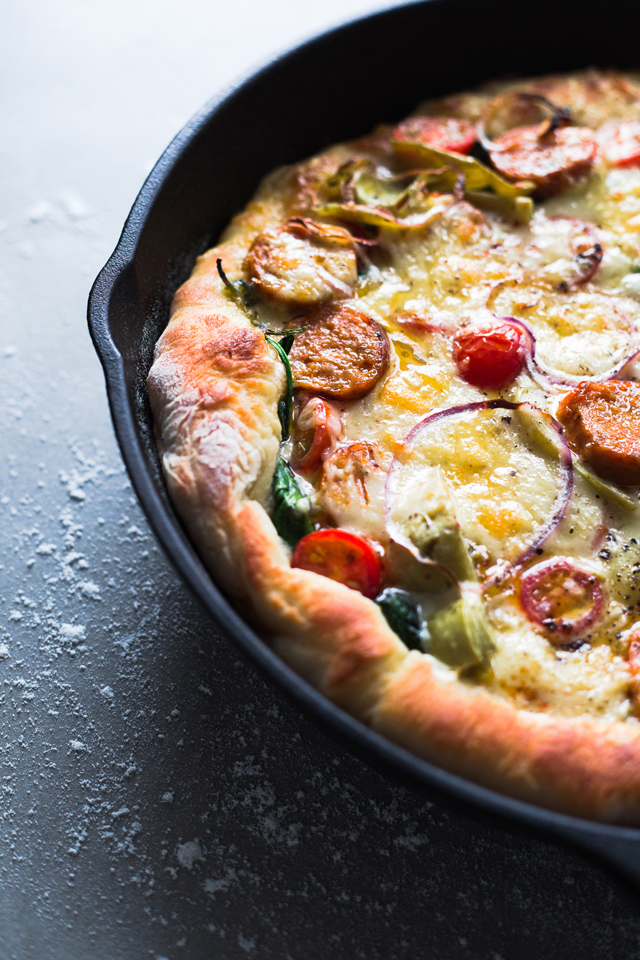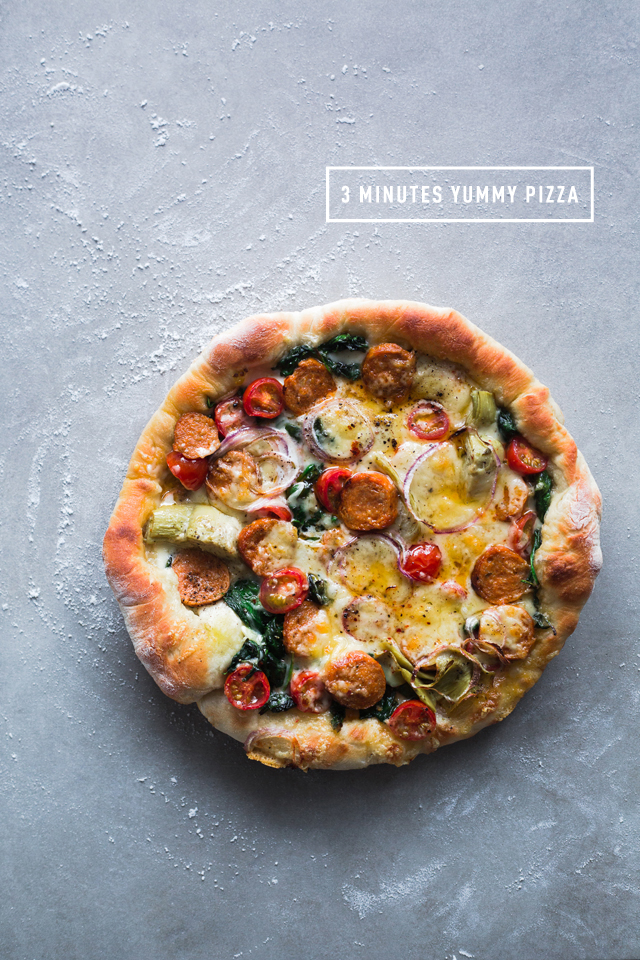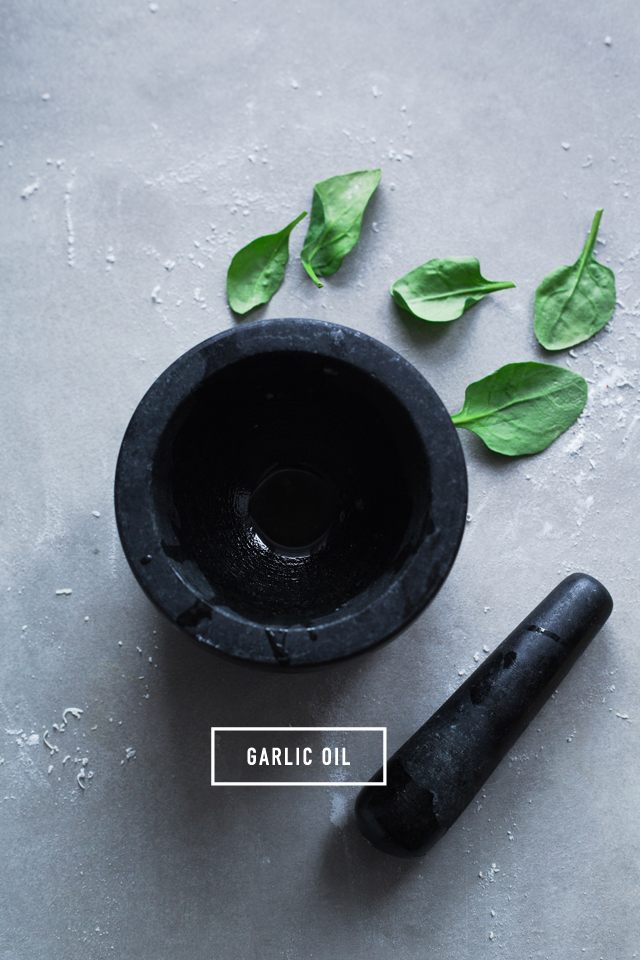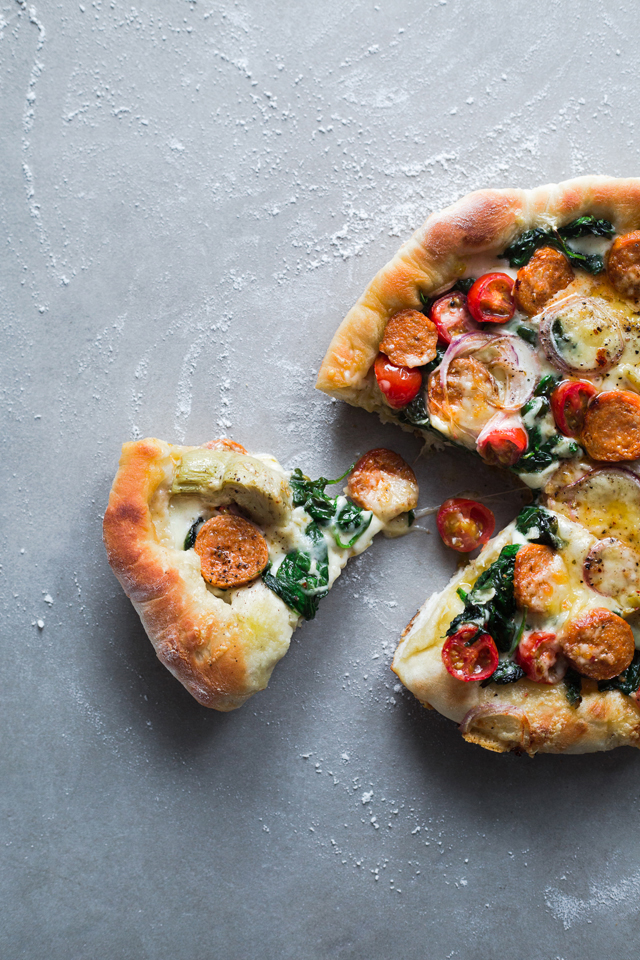 3 minutes cast iron skillet pizza : Italian Sausage, Spinach, Cherry tomatoes, Artichoke Hearts and Mozzarella Cheese
Makes 2 large (9 in) pizzas
INGRÉDIENTS
Dough:
– 2 tsp. active dry yeast
– 1 tsp. white sugar
– 1 + 1/4 cups warm water
– 3 cups all-purpose flour
– 3/4 tsp. salt
– 1 Tbsp. olive oil
Filling:
– 2 cloves garlic, minced
– 4 Tbsp. olive oil
– 1 fresh mozzarella ball, sliced
– 2 spicy Italian sausages
– 2.5 oz baby spinach
– 6 marinated artichoke hearts, quartered
– 12 cherry tomatoes, halved
– 5.3 oz grated fontina cheese
– Few red onion slices
– Ground pepper
– Ground chili, to taste
DO IT YOURSELF
1) Prepare the dough: in a bowl, mix the yeast, sugar & water. Let stand 10 min., bubbles should form on the surface.
2) In a large bowl, combine flour and salt. Make a well in the center of mixture and pour in the yeast. Knead the dough until smooth: it must be elastic & slightly sticky.
3) Form a ball and place in a clean, lightly oiled bowl. Cover with a clean cloth. Let dough rise for at least 1-2 hours in a warm, dry place, or until it has doubled in volume.
4) Meanwhile, prepare the filling: in a mortar, crush the garlic with 3 Tbsp. olive oil to create a fragrant oil.
5) In a skillet, cook sausages for 5 min. in boiling water. Drain water and grill 5 minutes on high heat. Let cool and slice into thin slices.
6) In the same pan, add 1 Tbsp. of olive oil & cook spinach for 1 minute or until it wilts.
7) Have the rest of ingredients prepared, because once the dough spread out, everything goes very fast!
8) Prepare the pizza: on a well floured surface, roll out the dough by hand, being careful not to over do it. Then place the pizza on a well floured chop board or a pizza board.
9) Place the oven rack in the upper third of the oven and preheat the oven to "grill / broil".
10) On the stove, have a cast iron skillet heated for 10 minutes or the time to garnish the pizza. The pan must be very hot, but not smoking.
11) Garnish the pizza: spread 1 Tbsp. garlic oil on the pizza dough, add the mozzarella, sausages, spinach, artichoke hearts, cherry tomatoes, shredded cheese and onions. Drizzle a little olive oil with garlic on top of the pizza and pepper and spread some crushed chili.
12) Once the skillet is hot, carefully transfer the pizza with a large well floured spatula into the skillet.
13) Shake the pan (be careful, it's hot!) a little to spread the topping, turn off heat and have the pan in the oven for 1 minute.
14) After 1 minute, rotate skillet at 180˚ in the oven and cook for 1 minute.
15) Check the cooking pizza, it will start grilling. Rotate at 180˚ again and cook for 1 minute or a little longer, until desired doneness.
16) Remove pizza from oven, let cool a few minutes before removing the pizza from the skillet and enjoy!
Process adapted from The Atlantic
Imprimer la recette
Envoyer par email
---
---
You might also like
---