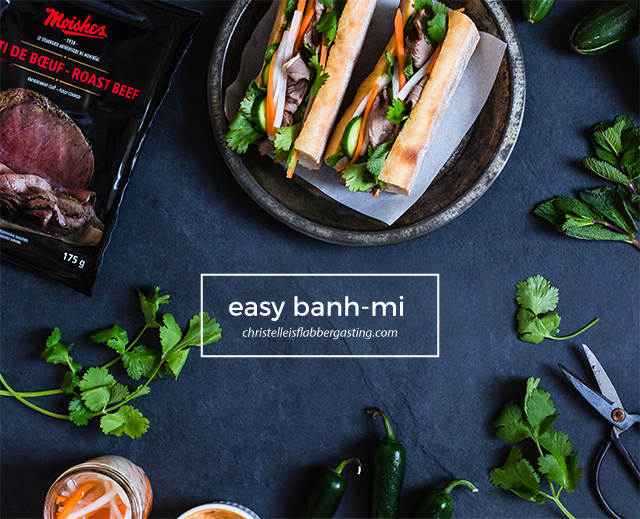 In over eight years of blogging, this is the first time I'm writing a blogpost in a café! ^^
Here's what's on my mind: renovation of my new kitchen has officially begun!  The shoot for this blogpost was the last I did before I packed everything into boxes — and believe me, I was already dreaming of biting into a Banh Mi Sandwich while my fridge was inaccessible, and I had my "forewoman" hat on. (You know, I was that woman – the one who has to deal with the plumber, the jobbers, the tile delivery people, the electrician, etc…)
Three o' clock went by, and I still hadn't eaten – and, boy, I was salivating at the thought of the sandwich that was waiting for me just a construction site away.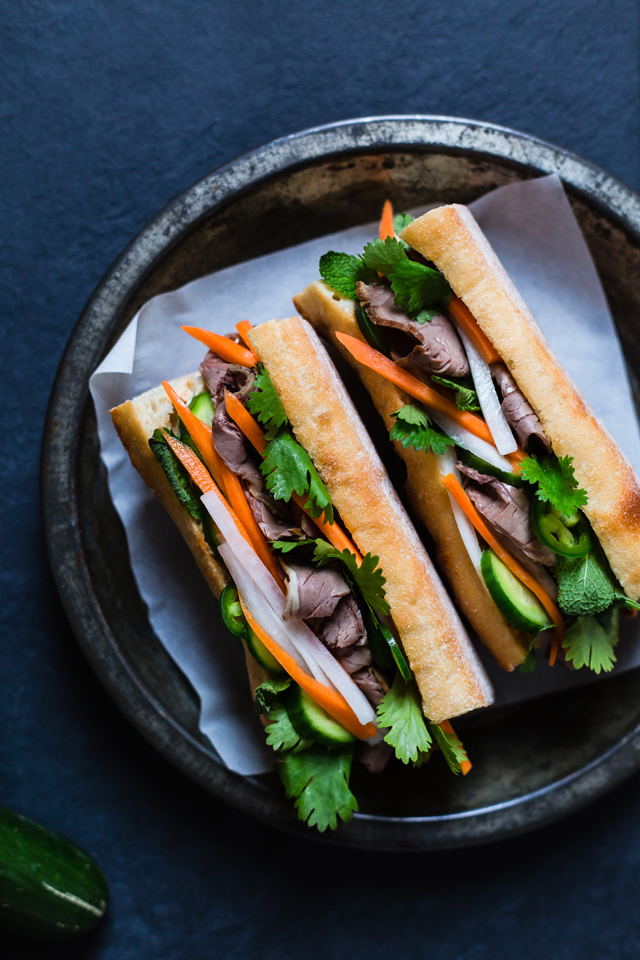 I love a good roast beef sandwich. I was thinking about it during the photo shoot: I think it comes from the time when I had that "great" Summer job folding wool sweaters in a little factory before they were shipped off to places all over. The Summer was very hot, the job was very repetitive, and I was on my feet all day — except for an hour break for lunch.
It was the kind of job you get when you're 15, to make a little money. At noon, I'd often slip out to the Vieux Châtillon bakery, and grab… a roast beef sandwich! A sandwich can seem like such an ordinary thing, but this sandwich was unbelievably delicious! As always, it was the quality of the ingredients that made all the difference: crunchy baguette, creamy mayonnaise, and good roast beef. More than 15 years later, I still drool when I think about it!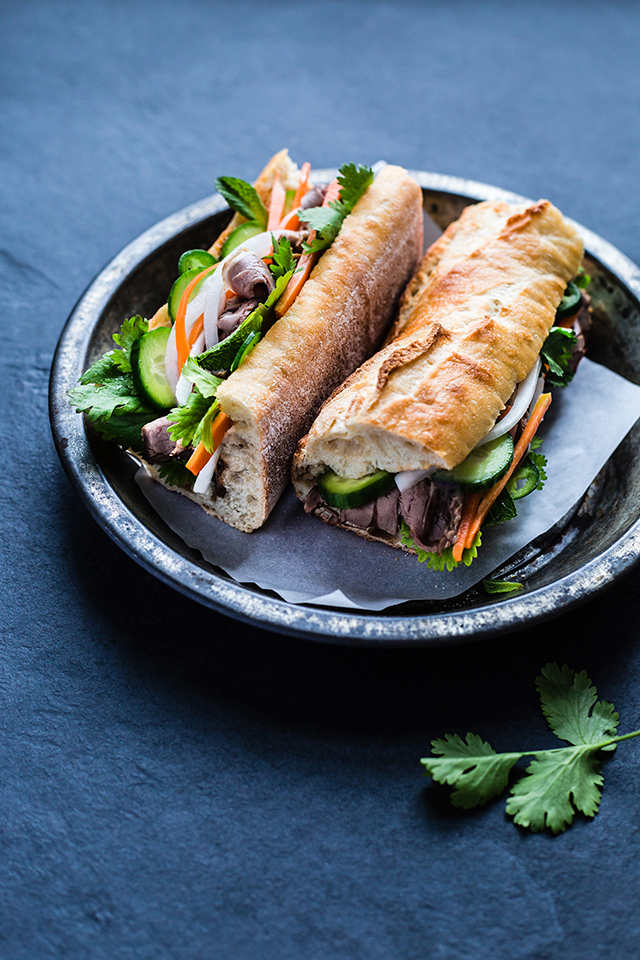 When I later discovered the Banh Mi* Sandwich, it almost replaced the roast beef sandwich in my heart: the spiciness, the cilantro (so fresh!), the pickles (for the perfect vinegary touch…) I fell in love instantly! The only thing I wasn't crazy about (and my Vietamese friends might stone me for saying this) was the pâté that often accompanied the meat in the classic version. So, when I make it, I like to leave the pâté out and add more meat (more roast beef, rather than pork, in my version… but you should do what you like) and more vegetables!
I developed this recipe for the Moishes food blog. Moishes is a true Montreal institution, a mythic restaurant founded on The Main in 1938! I lived nearby for many years, and enjoyed the steak that has been called one of the World's Best. Their roast beef lived up to their reputation.
Here's to roast beef – and crappy summer jobs! ;-)
Thanks for stopping by!
Christelle
---
*  I love the Banh Mi served at café Brooklyn, here in Montreal. Do you have a favourite?
** It's easy, since you don't marinate the meat. By preparing the vegetables  ahead of time, you're ready to enjoy your roast beef Banh Mi sandwich quickly at lunch time.
This post was created in collaboration with Moishes. All the content and opinions shared in this post are, as usual, mine. Thank you for supporting my partners, who allow me to publish new creative content on this blog.
Roasted Beef Banh Mi Sandwiches
Serves 3
INGRÉDIENTS
For spicy mayonnaise:
– 2 heaping Tbsp. of mayonnaise
– Sriracha sauce, to taste (I like a big tsp.)
For the sandwich:
– 1 fresh baguette
– 1 x 175 g package of Moishes roast beef (about six large slices)
– 1 Lebanese cucumber, thinly sliced
– 1 Jalapeño pepper (or a tiny tiny Bird's eye chili pepper), thinly sliced
— Pickled Carrot and Daikon Juliennes (see recipe below)
— A large handful of fresh cilantro, to taste (they're really indispensable – I suggest you use a lot!)
– Fresh mint leaves, to taste (optional, but they're so delicious!)
DO IT YOURSELF
1) In a bowl, mix the mayonnaise and the sriracha. Taste and add more sriracha, if desired. Set aside.
2)  Cut the baguette into three pieces, and slice each piece in two length-wise.
3) Spread the mayonnaise and sriracha onto the bread. Add slices of roast beef, cucumber, pepper, and pickled Carrot and Daikon.
4) Garnish generously with cilantro and fresh mint leaves. Eat right away!
Imprimer la recette
Envoyer par email
Quick-Pickled Carrot and Daikon
Makes 1 cup (250 ml)
INGRÉDIENTS
– 3 small Nantes carrots
– One small piece of Daikon radish (about 3.5 inches/ 9 cm)
– 125 ml (1/2 cup) of rice vinegar (or white vinegar)
– 1 Tbsp. sugar
– A pinch of salt
DO IT YOURSELF
1) Peel and slice the carrots and Daikon radish into not-too-thin Juliennes (you want them to stay crunchy!)
2) In a small bowl, mix the vinegar, sugar and salt. Warm over medium heat, stirring from time to time, until sugar is dissolved.
3) Stuff as much Daikon radish and carrots Juliennes as you can into a a sterilized glass Mason jar, tightly.
4) Pour the brine over the carrots and Daikon (don't worry if they're not fully covered). Mix and let rest at room temperature for 20 minutes. Mix again before sealing.
Pickled vegetables can be kept in the fridge for several weeks.
Imprimer la recette
Envoyer par email
NOTES :
– You can use the carrots and Daikon once the brine has cooled off, or pickle them in advance and use when desired.
– You can use this super simple recipe to pickle all kinds of vegetable: cauliflower, cucumbers, onions, etc….
---
---
You might also like
---