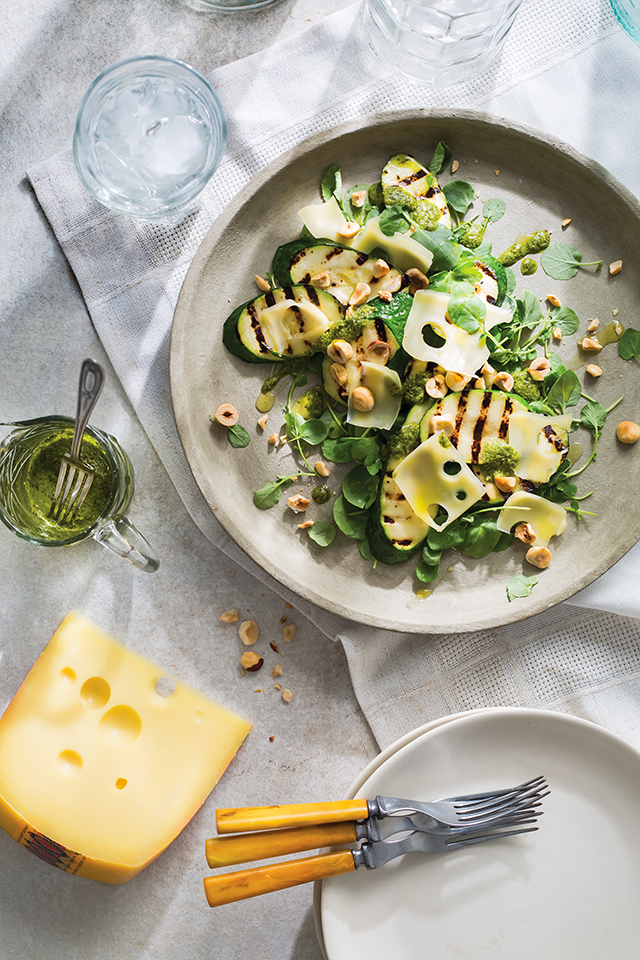 The beautiful sunny days are coming (YES THEY ARE!), and for this occasion, I've created two recipes featuring Jarlsberg cheese. Grill and cilantro seem to be a constant inspiration of mine, if you do remember my grilled pizza from last summer!
The first recipe I share with you is this warm salad of Grilled zucchini, Jarlsberg and Roasted Hazelnuts, served with its Cilantro Vinaigrette. I love it. A lot.
Crunchy zucchinis with smoky notes from the grill
Creamy and nutty Jarlsberg
Roasted hazelnuts (hazelnuts, my love! I think I was a squirrel in a previous life!)
Delicate watercress leaves
All coated with a delicious vinaigrette loaded with fresh cilantro!
What's not to like? It's pure definition of summ-aaaaah!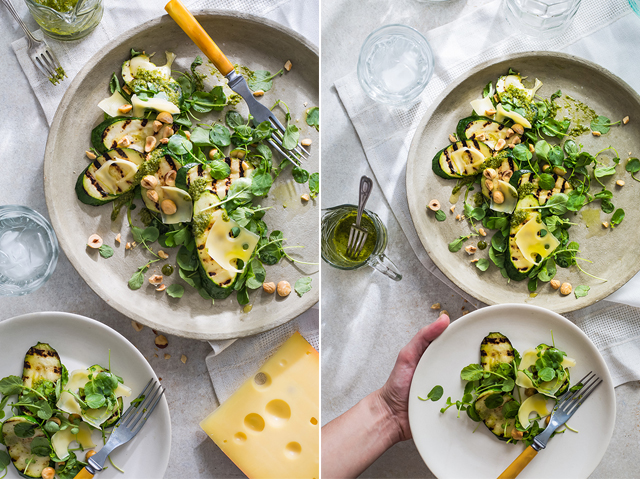 We also wanted to shoot a video… great! … In my kitchen… cool! With me in front of the camera… wait… whuuuuut?!? #Heeelp #SoShy
I said yes! I know I'll have fun collaborating with other creative people I love. Robert and David behind the concept and photos, Karine as the prop stylist, and I behind the recipes and food styling.
Have a look and tell me what you think! I am off for vacations (Suuun! YEAH!), and if you have some tips + best spots to share in Negril, Jamaica, I'd be forever grateful!
Talk soon on the interweb and grill me this zucchinis as soon as you see them at the market stands! x
Photography: Robert Lee + David Rollins
Recipe + Food Styling : Christelle Tanielian
Prop Styling : Karine Blackburn
DOP : Gabriel Brault Tardif + his team
Thanks to Janice Lawandi for assisting me during filming!
---
Do you make this recipe? Tag your pictures on Instagram with #Christelleisflabbergasting to spread the love, or pin it on Pinterest to make it later!
---
Grilled Zucchini & Jarlsberg Salad with Roasted Hazelnuts
INGRÉDIENTS
For the salad
– 1/4 cup hazelnuts
– 2 small zucchinis, sliced on the bias
– 1 tbsp. olive oil
– 1/3 cup (packed) watercress
– 40 g Jarlsberg, shaved
For the vinaigrette
– ½ cup (packed) cilantro
– ½ clove garlic
– 4 tbsp. olive oil
– 2 tbsp. red wine vinegar
– Salt and pepper, to taste
– Cold water
DO IT YOURSELF
1) Preheat the oven to 350ºF. Scatter the hazelnuts on a parchment-lined baking sheet and toast them in the oven for 12-15 minutes, shaking the pan every 5 minutes, or until they smell toasted and their skins start coming off. Allow to cool.
2) Rub the nuts in a dish towel, or between your hands, to remove their skins. Don't worry if some if the skin doesn't come off. Discard the skins. Chop half the nuts, and save the rest for the vinaigrette.
3) Using an immersion blender or a small food processor, blend the cilantro, garlic, oil, vinegar, and remaining nuts. Season with salt and pepper. Add a little cold water if desired, to thin the vinaigrette.
4) Oil and heat a grill or ridged cast iron pan over medium-high heat. Toss the zucchini in a tablespoon of olive oil, and season with salt and pepper. Grill on each side for 2-3 minutes, or until they have strong grill marks and the zucchini is tender, but still a little crisp. Let come to room temperature.
5) Lay the zucchini and watercress on a serving platter. Sprinkle with the Jarlsberg and hazelnuts. Drizzle with vinaigrette and serve. Serves 4.
Imprimer la recette
Envoyer par email
This post was created in collaboration with Jarlsberg. All words and opinions are my own. Thank you for supporting my work!
---
---
You might also like
---