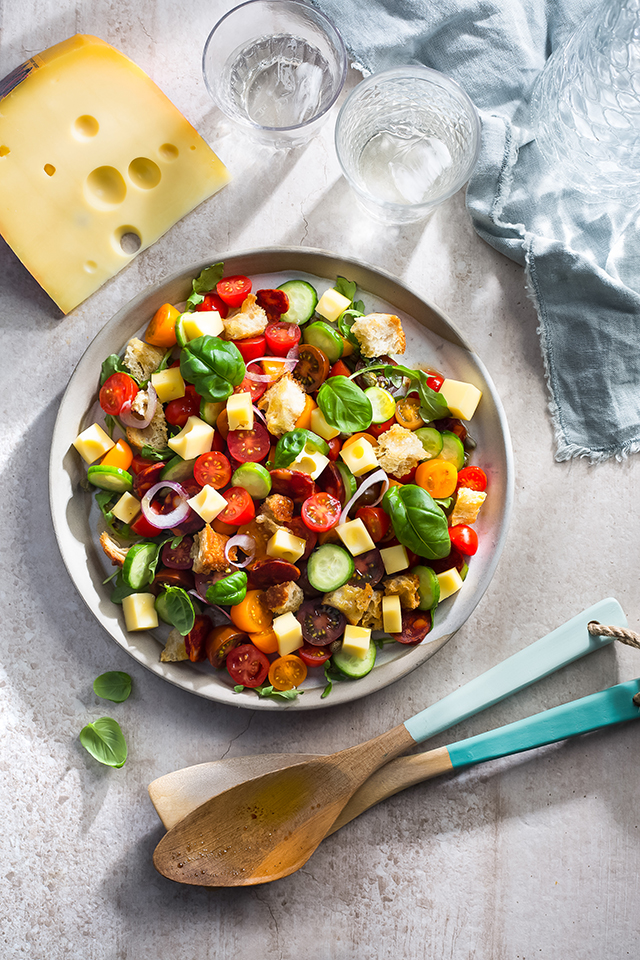 Here is my second recipe created as part of my collaboration with Jarlsberg!
Do you remember my Grilled Zucchini Salad (and the video ;-) we shot? #AmazingActress)!
Well, you must cook these two recipes NOW: we are in the heart of the season of good and local tomatoes, cucumbers and zucchinis! You must enjoy it while it lasts!
If you get your hands on yummy Ontario peaches, and you like sweet and savory mixes, they would be the perfect adds-on to this panzanella!
Summer isn't complete if I do not eat at least one or more variants of a panzanella. Here, I turn it into a full meal, with the addition of chorizo ​​and –always!– good cubes of toasted bread… You can definitely choose to keep the whole thing vegetarian if you want (and why not add an handful of pulses, to make it more consistent?!)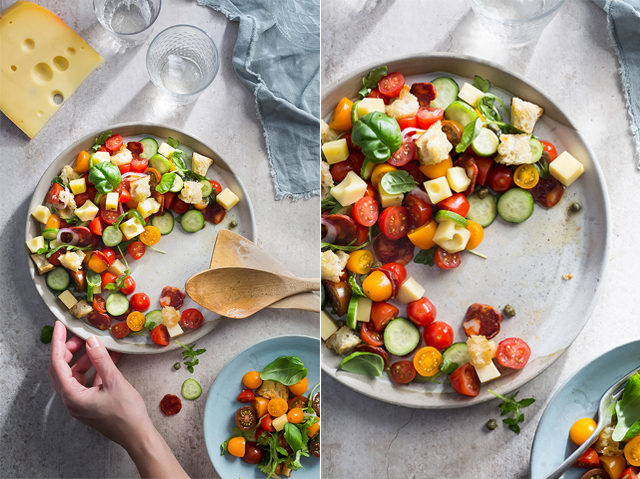 Can I finally suggest you two other perfect summer recipes? This delicious Late Summer Grilled Pizza (the recipe is translated in English by Marie on her blog here!) and this marvellous Socca with Yellow Plums and Green & Yellow Zucchinis (Google Translate it or buy Clotilde's book!)
Do not let summer slip through your fingers. And fill your belly up! x
–
Photography : Robert Lee + David Rollins
Recipe + Food Styling : Christelle Tanielian
Prop Styling : Karine Blackburn
---
Do you make this recipe? Tag your pictures on Instagram with #Christelleisflabbergasting to spread the love, or pin it on Pinterest to make it later!
---
Panzanella with chorizo and Jarlsberg
Serves 4
INGRÉDIENTS
– 2 cups day-old crusty bread, such as ciabatta or sourdough, diced
– 2 Lebanese cucumbers, finely sliced
– 2/3 lb cherry tomatoes, halved
– 1 tbsp. capers, drained
– A generous 1/2 cup Jarlsberg, diced
– 1/4 cup spicy chorizo, finely sliced
– 10 basil leaves, torn
– handful arugula (optional)
– A few red onions slices
– 3.5 tbsp. olive oil
– 1 tbsp. balsamic vinegar
– Salt and pepper
DO IT YOURSELF
1) Preheat the oven to 400ºF (200ºC).
Scatter the cubes of bread on a parchment-lined baking sheet. Drizzle with half a tablespoon of olive oil. Season with salt and pepper, and toss.
2) Bake for 15-20 minutes, checking frequently and shaking the pan half way through, until the bread is uniformly toasted. Let the croutons cool.
3) In a large bowl, or on a large platter, scatter the cucumbers, tomato halves, capers, Jarlsberg, chorizo, and croutons. Add the torn basil, arugula and red onion slices.
4) In a small bowl, mix the remaining olive oil with the balsamic vinegar. Add salt and pepper, to taste. Drizzle this vinaigrette over the panzanella and chill for 30 minutes, or serve immediately if you prefer crunchy croutons!
Imprimer la recette
Envoyer par email
This post was created in collaboration with Jarlsberg. All words and opinions are my own. Thank you for supporting my work!
---
---
You might also like
---