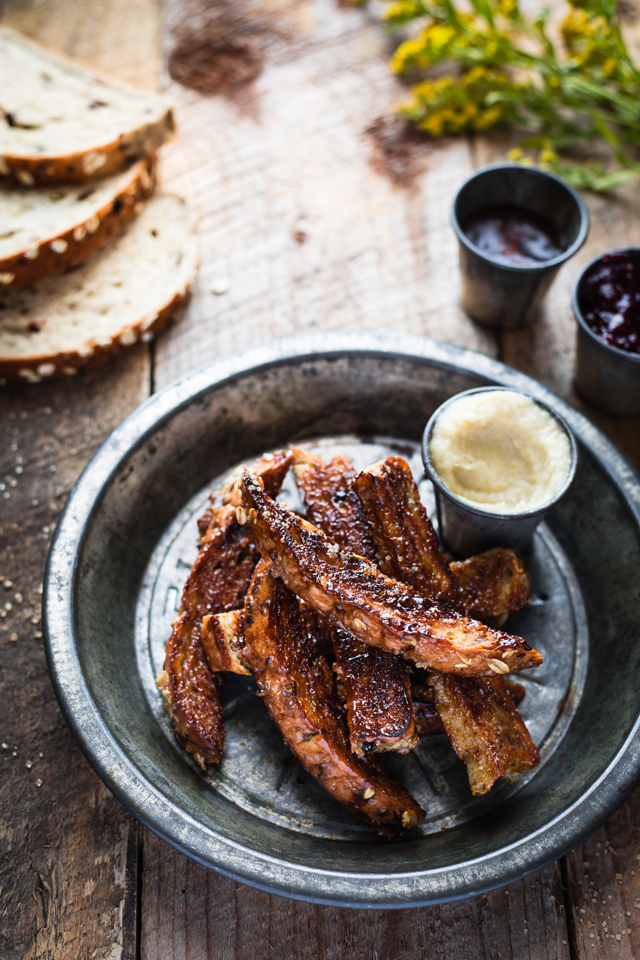 I've said it many times before and I will say it again, it's no longer a secret at this point: I love breakfast. 5 times a day more than one, because at 30-something (ok 31…), I still like to prepare snacks and nibbles for myself.
But let's get back to my favorite meal of the day. Breakfast. Very often on weekends, when I have more time, I decide to go all out. Coffee, fresh juice, eggs, croissants, pains au chocolat, toasts, jams… I love putting EVERYTHING on the table and going back and forth from sweet to salty. Hotel life you could say! Right now, what I really like is to make the most decadent versions of french toast. Following my Bostock recipe (aka the love child of french toast and almond croissant), I have adopted the Caramelized French Toast Fries! BOOM!
Imagine the taste of french toast wrapped into a delicious crispy caramel coating and in the shape of a fry, ready to be eaten in one bite! A succession of emojis has been especially created for this –>>?❤?❤?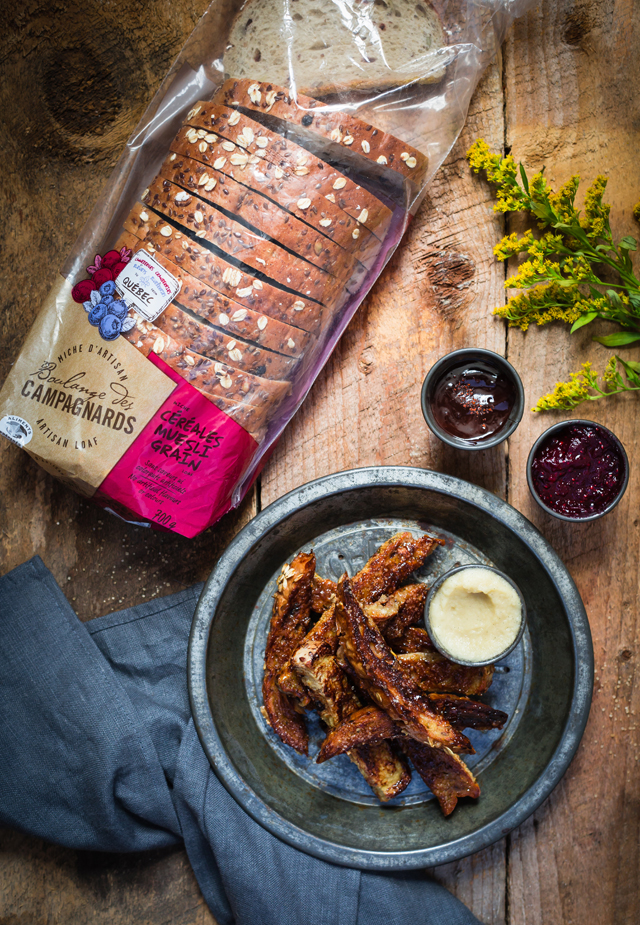 I developed this recipe in collaboration with Boulange des Campagnards, using their Muesli grain loaf with Quebec cranberries and blueberries. This loaf, with a lightly brioche texture, grains and delicious berries, is already a breakfast treat in itself. But in the shape of crispy fries, it's wooooowww!
Just like french fries have ketchup (or mayo… depending on what team you're on)(You know what they put on french fries in Holland instead of ketchup?*), you can eat these french toast fries with different sauces, that remain totally optionals (have I already said this is decadent or what?), but are always fun to vary tastes and textures!
The Espelette pepper Chocolate Sauce will add a spicy kick to your fries. The Cranberry, Maple and Orange Sauce will balance the caramel with its fruity and tangy notes. And finally, the Apple Maple Vanilla Butter needs no explanation: it's creamy and velvety… and it's a great way to enjoy this season's last great Quebec apples, until rhubarb hits the market!
I also have to mention this great amber gold that we find in practically all my recipes and that has –without a doubt– contributed to me asking to become a Canadian citizen: maple syrup! (and there you go, subtly I am sharing a big news!!!) You can find loads of it at the market right now (it's sugar shack time!) but you have probably noticed, it is a must in my kitchen all year long! Obviously, if you don't live in Quebec and are having difficulty finding some, you can replace it with sugar or honey!
On this note, see you soon… I have a whole body to go caramelize! OH! OH! :D
______________
*For those of you who know their classics!
** Yes, I am going back to Tulum!! I know a lot of you enjoyed my favorite spots since last time, and nothing makes me happier! If you have good tips or plans to share with me in return, send them my way. I will update my blog post as soon as I am back!
---
This post was created in collaboration with Boulange des Campagnards. All the content and opinions shared in this post are, as usual, mine. Thank you for supporting my partners, who allow me to publish new creative content on this blog.
---
---